AVID Pro Tools HDX
Het vlaggenschip DAW van AVID, het meest gebruikte opname- en mix systeem in de meest gerenommeerde studios waar ook ter wereld. Te gebruiken vanaf een Apple Mac mini® tot een Apple Mac Pro®. Sample rates vanaf 44.100Hz tot 192.000Hz, max. 256 In-Outputs. Lees hier het complete overzicht van de specificaties…
AVID Pro Tools HD Native
Dit is de Native variant op het HDX systeem van AVID. Je hebt hier de IO hardware van AVID gecombineerd met de processing  power van je computer in één! Maximaal 64 in- en uitgangen, Samplerates van 44.100Hz tot 192.000Hz, max. 256 tracks. HD Native is verkrijgbaar in een PCI-e kaart- en Thunderbolt versie… Lees hier het complete overzicht van de specificaties.
Elevate your sound with pristine conversion and powerhouse monitoring
Looking for the purest, most detailed sound quality and expansive routing and monitor control possible in your sessions? You just found it. The versatile new Pro Tools | MTRX audio interface is coming soon for Pro Tools | HDX and HD Native. Get the superior sonic quality of DAD's legendary AD and DA converters—plus incredibly flexible monitoring, I/O, and routing capabilities—all in a powerful unit that integrates seamlessly with Pro Tools | S6 and S3.
With Pro Tools | MTRX, you'll be able to…
Gain extended monitor control and flexible routing with S6, S3, and other EUCON surfaces

Use the converter as a high-performance 64-channel Pro Tools | HD interface

Connect and route your entire studio through AES3, MADI, Dante, and/or SDI I/O*

Add high-quality mic preamps as an option and remotely control them from Pro Tools

Customize MTRX for your needs through eight available 8-channel card slots

Keep everything in sync through Word Clock, AES11, Video, and all digital I/O

Get automatic sample rate conversion on inputs

And much more
---
Verbeter je geluid met onberispelijke conversie en powerhouse-monitoring
Op zoek naar de zuiverste, meest gedetailleerde geluidskwaliteit en uitgebreide routing en monitorcontrole die mogelijk is in uw sessies? Je hebt het net gevonden. De veelzijdige nieuwe Pro Tools | MTRX-audio-interface komt binnenkort voor Pro Tools | HDX en HD Native. Verkrijg de superieure geluidskwaliteit van de legendarische AD- en DA-converters van DAD-plus ongelooflijk flexibele monitoring, I / O en routeringsmogelijkheden – alles in een krachtige eenheid die naadloos kan worden geïntegreerd met Pro Tools | S6 en S3.
Met Pro Tools | MTRX, je zult in staat zijn om …
Krijg uitgebreide monitorbesturing en flexibele routing met S6, S3 en andere EUCON-Controllers

Gebruik de converter als een high-performance 64-kanaals Pro Tools | HD-interface

Verbind en routeer je hele studio via AES3, MADI, Dante en / of SDI I / O *

Voeg als optie een hoogwaardige microfoonvoorversterker toe en bedien ze op afstand via Pro Tools

Pas MTRX aan aan je behoeften via acht beschikbare 8-kanaals kaartsleuven

Houd alles gesynchroniseerd via Word Clock, AES11, Video en alle digitale I / O

Krijg automatische sample rate-conversie op inputs

En nog veel meer
HD I/O 8x8x8
When you need a balance of analog and digital I/O, with the option for expansion, 8x8x8 is the perfect choice for music and audio post. It offers 8 channels of analog I/O, 8 channels of AES/EBU I/O, 8 channels of TDIF I/O, and 8 channels of ADAT (S/MUX) I/O. It also comes with 2 additional channels of AES/EBU I/O, 2 channels of S/PDIF I/O, and 8 additional channels of ADAT I/O. Plus, you can customize your I/O further with one empty bay for expansion play.
HD I/O 16×16 Analog
Get the maximum complement of analog inputs and outputs with the 16×16 Analog configuration—the ideal choice for music production. It offers 16 channels of analog I/O, 2 channels of AES/EBU I/O, 2 channels of S/PDIF I/O, and 8 channels of ADAT (S/MUX) I/O. While all four I/O bays are occupied with this option, you can swap out any of the analog cards with a different option card to customize.
HD I/O 16×16 Digital
For audio post-production work, the 16×16 Digital configuration is ideal if you frequently need to interface with a digital mixer, additional Pro Tools rig, or other digital infrastructure. It offers 16 channels of AES/EBU (S/MUX) I/O, 16 channels of TDIF I/O, 16 channels of ADAT I/O, 2 additional channels of AES/EBU I/O, 2 channels of S/PDIF I/O, and 8 additional channels of ADAT I/O. Plus, you have two empty bays to expand your I/O even further.
HD I/O Option Cards
As your needs grow or change, it's easy to add more analog or digital I/O—just install an option card. You have three to choose from. The HD I/O AD Option adds 8 analog inputs. The HD I/O DA Option adds 8 analog outputs. And the HD I/O Digital Option adds 8 I/O channels each of AES/EBU (with single- and dual-wire 192 kHz support), TDIF, and ADAT (supports S/MUX II and IV).
---
HD I/O 8x8x8
Wanneer u een balans van analoge en digitale I / O nodig hebt, met de optie voor uitbreiding, is 8x8x8 de perfecte keuze voor muziek en audio-berichten. Het biedt 8 kanalen analoge I / O, 8 kanalen AES / EBU I / O, 8 kanalen TDIF I / O en 8 kanalen ADAT (S / MUX) I / O. Het komt ook met 2 extra kanalen van AES / EBU I / O, 2 kanalen van S / PDIF I / O, en 8 extra kanalen van ADAT I / O. Bovendien kunt u uw I / O verder aanpassen met één leeg vak om uit te breiden.
HD I / O 16×16 analoog
Krijg de maximale aanvulling van analoge ingangen en uitgangen met de 16×16 analoge configuratie – de ideale keuze voor muziekproductie. Het biedt 16 kanalen analoge I / O, 2 kanalen AES / EBU I / O, 2 kanalen S / PDIF I / O en 8 kanalen ADAT (S / MUX) I / O. Hoewel alle vier I / O-baaien met deze optie bezig zijn, kunt u elk van de analoge kaarten met een andere optiekaart verwisselen om aan te passen.
HD I / O 16×16 digitaal
Voor audiopostproductie is de 16×16 digitale configuratie ideaal als u vaak moet interfacen met een digitale mixer, een extra Pro Tools-tuig of andere digitale infrastructuur. Het biedt 16 kanalen AES / EBU (S / MUX) I / O, 16 kanalen TDIF I / O, 16 kanalen ADAT I / O, 2 extra kanalen AES / EBU I / O, 2 kanalen S / PDIF I / O en 8 extra kanalen van ADAT I / O. Bovendien heb je twee lege baaien om je I / O nog verder uit te breiden.
HD I / O-optiekaarten
Naarmate uw behoeften toenemen of veranderen, is het eenvoudig om meer analoge of digitale I / O toe te voegen – installeer gewoon een optiekaart. Je hebt er drie om uit te kiezen. De HD I / O AD-optie voegt 8 analoge ingangen toe. De HD I / O DA-optie voegt 8 analoge uitgangen toe. En de HD I / O Digital-optie voegt 8 I / O-kanalen toe aan elk van AES / EBU (met ondersteuning voor enkel en dubbel draad van 192 kHz), TDIF en ADAT (ondersteunt S / MUX II en IV).
Hear what you've been missing
If you're familiar with our older "blue" Pro Tools | HD interfaces, your ears are in for a major treat. Experience significantly better audio fidelity, wider dynamic range, and super-low jitter thanks to sophisticated A/D and D/A conversion and a new analog front-end. Capture and play back every audio detail. Retain the warmth and presence of your original sources. And get the lowest possible latency when recording.
Track, mix, and monitor in one
With HD OMNI, you can do it all with a single rack space interface—whether you make music or create sound for picture. Capture high-quality instrument and vocal performances (with 4×8 analog or 8×8 digital support). Record overdubs, or track ADR and Foley for a soundtrack. Provide cue mixes for artists. Hear your own discrete mix. Monitor in stereo or up to 7.1 surround right from the front panel. And because there's no need to route signals across multiple interfaces, you save both time and money.
Listen your way
Choose how you want to listen… Hear mixes in stereo or surround. Monitor through speakers or your cans. Create a personal mix for performers while listening to your own. Compare a mix on different speaker sets. And if you don't feel like launching Pro Tools, HD OMNI also functions as a persistent mixer, so you can monitor a keyboard, drum machine, or music player independently from your recording setup.
Optimize your sound
Connect your digital gear without the hassle, with built-in sample rate conversion offered on all digital inputs. Maximize your analog input signals, without any harsh clipping, with the soft clip feature. Plus, you'll be able to track hotter signals and smooth out inconsistent levels from incoming sources.
---
Hoor wat je hebt gemist
Als u bekend bent met onze oudere "blauwe" Pro Tools | HD-interfaces, je oren zijn in voor een grote traktatie. Ervaar aanzienlijk betere audioweergave, groter dynamisch bereik en superlage jitter dankzij geavanceerde A / D- en D / A-conversie en een nieuw analoog front-end. Leg elk audiogedeelte vast en speel het af. Bewaar de warmte en aanwezigheid van uw originele bronnen. En krijg de laagst mogelijke latentie tijdens het opnemen.
Track, mix en monitor in één
Met HD OMNI kunt u alles doen met één rack-ruimte-interface – of u nu muziek maakt of geluid maakt voor beeld. Leg hoogwaardige instrument- en vocale uitvoeringen vast (met 4×8 analoge of 8×8 digitale ondersteuning). Neem overdubs op of volg ADR en Foley voor een soundtrack. Geef cue-mixen voor artiesten. Hoor je eigen discrete mix. Monitor in stereo of tot 7.1 surround vanaf het voorpaneel. En omdat het niet nodig is om signalen over meerdere interfaces te sturen, bespaart u zowel tijd als geld.
Luister naar je manier
Kies hoe u wilt luisteren … Hoor mixen in stereo of surround. Monitor via luidsprekers of uw blikjes. Maak een persoonlijke mix voor artiesten terwijl je naar de jouwe luistert. Vergelijk een mix op verschillende speakersets. En als u geen zin heeft om Pro Tools te starten, functioneert de HD OMNI ook als een permanente mixer, zodat u een toetsenbord, drummachine of muziekspeler onafhankelijk van uw opname-instellingen kunt monitoren.
Optimaliseer je geluid
Verbind uw digitale apparatuur zonder gedoe, met ingebouwde sample rate-conversie aangeboden op alle digitale ingangen. Maximaliseer uw analoge ingangssignalen, zonder harde clipping, met de zachte clipfunctie. Bovendien kunt u beter signalen volgen en inconsistente niveaus uit inkomende bronnen wegwerken.
Sync your studio
Keep your Pro Tools rigs and other connected gear in sync—no matter how massive your media production. Designed for Pro Tools | HD systems, Pro Tools | SYNC HD is the ultimate low-jitter master clock, providing near sample-accurate lock to serial timecode. It's a must when working with large-scale music and soundtrack productions. If you have multiple audio interfaces and digital devices in your studio, SYNC HD offers the stability, consistency, and reliability you need to keep everything running smoothly. And with its new lower price, commanding precision is even easier than ever.
Eliminate distortion
Maintain the highest audio fidelity and performance across Pro Tools | HD and all connected devices. With SYNC HD, you have a reliable, low-jitter master clock ensuring that all audio signals are captured and played back with complete precision and accuracy, so you get pristine, distortion-free audio. And it supports all Pro Tools | HD sample rates, from 44.1–192 kHz.
Clock to a variety of sources
SYNC HD supports all major industry-standard clock sources and timecode formats used in audio, video, film, and multimedia production. These include Loop Sync, Video Reference, Linear Timecode, Word Clock, and more.
Get more details
Set a positional reference
To maintain the highest level of sync accuracy over long periods of time, SYNC HD also supports positional reference sources. These include Linear Timecode (LTC), Vertical Interval Timecode (VITC), Serial Timecode, and Bi-phase/Tach.
Get locked in
When used with Pro Tools | HD systems, SYNC HD provides highly accurate lock to timecode, making it essential for commercial music and post production. If you're using Satellite Link to control multiple Pro Tools | HD systems, you'll need one or more interfaces. You can remotely control the interface from your Pro Tools | HD system, or use SYNC HD standalone. It also provides standard pull-up and pull-down rates, making it easier to work with film and video projects.
---
Synchroniseer je studio
Houd je Pro Tools-rigs en andere aangesloten apparatuur synchroon, hoe massief je mediaproductie ook is. Ontworpen voor Pro Tools | HD-systemen, Pro Tools | SYNC HD is de ultieme master-klok met lage jitter, die een vrijwel exacte, tijdloze lock-to-timecode biedt. Het is een must bij het werken met grootschalige muziek- en soundtrackproducties. Als u meerdere audio-interfaces en digitale apparaten in uw studio hebt, biedt SYNC HD de stabiliteit, consistentie en betrouwbaarheid die u nodig hebt om alles soepel te laten verlopen. En met zijn nieuwe, lagere prijs is de hoogste precisie nog eenvoudiger dan ooit.
Elimineer vervorming
Behoud de hoogste audioweergave en prestaties in Pro Tools | HD en alle verbonden apparaten. Met SYNC HD beschikt u over een betrouwbare master-klok met een lage jitter die ervoor zorgt dat alle audiosignalen met volledige precisie en nauwkeurigheid worden vastgelegd en weergegeven, zodat u onberispelijke, vervormingsvrije audio krijgt. En het ondersteunt alle Pro Tools | HD-samplesnelheden, van 44,1-192 kHz.
Klok naar verschillende bronnen
SYNC HD ondersteunt alle belangrijke industriestandaard klokbronnen en tijdcodeformaten die worden gebruikt in audio-, video-, film- en multimediaproductie. Deze omvatten Loop Sync, Videoreferentie, Lineaire Tijdcode, Word Clock en meer.
Stel een positiereferentie in
Om synchroonnauwkeurigheid over een langere periode te behouden, ondersteunt SYNC HD ook positionele referentiebronnen. Deze omvatten lineaire tijdcode (LTC), verticale intervaltijdcode (VITC), seriële tijdcode en bi-fase / tach.
Echt sync zijn..
Bij gebruik met Pro Tools | HD-systemen, SYNC HD biedt een uiterst nauwkeurige time-to-lock-functie, waardoor het essentieel is voor commerciële muziek en postproductie. Als u Satellite Link gebruikt om meerdere Pro Tools te besturen | HD-systemen, je hebt een of meer interfaces nodig. U kunt de interface op afstand besturen vanuit uw Pro Tools | HD-systeem of gebruik SYNC HD stand-alone. Het biedt ook standaard pull-up en pull-down rates, waardoor het gemakkelijker wordt om met film- en videoprojecten te werken.
Take complete control of your studio
Experience the deep and versatile DAW control only Avid can deliver. With its intelligent, ergonomic design and EUCON support, S3 puts tightly integrated recording, editing, and mixing control at your fingertips. Work smarter and faster—with your choice of apps—to expand your mixing capabilities and job opportunities. And because S3 is application-aware, you can switch between different DAWs in seconds. Plus, its compact footprint fits easily into any space, giving you full reign of the "sweet spot."
Work smarter and faster
S3 combines a traditional console layout with the advancements of Pro Tools | S6, ensuring intuitive operation, regardless of your experience level. From interacting with tracks and editing plug-ins, to writing automation, you get the tactile control you need to create better mixes faster. With much more precision than working with a keyboard and mouse. Plus, when paired with Pro Tools | Dock and the Pro Tools | Control app, you can accelerate your efficiency even more.
Experience exceptional integration and ergonomics
No other surface offers the level of DAW integration and versatility that Avid control surfaces provide, and S3 is no different. Its intuitive controls feel like an extension of your software, enabling you to mix with comfort, ease, and speed. Plus, you'll get plenty of rich visual feedback to inform and guide you towards creating that perfect mix.
Create your mix, your way
With EUCON technology at its core, not only can you mix sessions using Pro Tools, Logic Pro, Cubase, and other DAWs, you can also customize the surface for your task at hand. Create up to 12 custom mixer layouts and recall them to the surface at any time. It's ideal for mixing drums, vocals, dialog, sound effects, and other groupings. Plus, you can switch between applications with ease, giving you the choice to work with what you want. And the capability to take on any project that comes your way.
Set up a studio in any size space
Whether you're at home, tucked in a small suite, or on the go, S3's compact size, power, and extensive DAW control put you in the driver's seat of your studio. Wherever you want it to be. What's more, S3 features a built-in 4×6 interface, enabling you to record, mix, and monitor sessions with just the surface and your laptop (Mac only). Or monitor audio using S3 standalone. No additional audio interface required.
Use the same technology pros trust
S3 delivers incredible workflow acceleration, highly responsive handling, and deep DAW integration. All of it built on proven technology, trusted by top audio professionals in the most demanding production environments. The result: you get the exceptional, dynamic performance you need to deliver the best sounding mix possible—on time, every time.
---
Neem de volledige controle over uw studio
Ervaar de diepe en veelzijdige DAW-besturing die alleen Avid kan leveren. Dankzij het intelligente, ergonomische ontwerp en de EUCON-ondersteuning heeft de S3 een strak geïntegreerde opname-, bewerkings- en mengbesturing binnen handbereik. Werk slimmer en sneller – met uw keuze aan apps – om uw mixmogelijkheden en vacatures uit te breiden. En omdat S3 toepassingsgericht is, kunt u in seconden schakelen tussen verschillende DAW's. Bovendien past de compacte voetafdruk ervan gemakkelijk in elke ruimte, waardoor u de "sweet spot" volledig beheerst.
Werk slimmer en sneller
S3 combineert een traditionele console-indeling met de vorderingen van Pro Tools | S6, voor intuïtieve bediening, ongeacht uw ervaringsniveau. Van het werken met tracks en het bewerken van invoegtoepassingen tot schrijfautomatisering, u krijgt het tactiele besturingselement dat u nodig hebt om sneller betere mixen te maken. Met veel meer precisie dan werken met een toetsenbord en muis. Plus, in combinatie met Pro Tools | Dock en de Pro Tools | Controle app, je kunt je efficiëntie nog meer versnellen.
Ervaar uitzonderlijke integratie en ergonomie
Geen enkel ander oppervlak biedt het niveau van DAW-integratie en veelzijdigheid dat Avid-regeloppervlakken bieden, en S3 is niet anders. De intuïtieve bediening voelt als een uitbreiding van uw software, zodat u kunt mixen met comfort, gemak en snelheid. Bovendien krijg je veel rijke visuele feedback om je te informeren en je te begeleiden bij het creëren van die perfecte mix.
Maak je mix, op jouw manier
Met de kern van EUCON-technologie kunt u niet alleen sessies mixen met Pro Tools, Logic Pro, Cubase en andere DAW's, maar u kunt ook het oppervlak aanpassen aan uw taak. Maak maximaal 12 aangepaste mixerlay-outs en haal ze op elk gewenst moment weer naar de oppervlakte. Het is ideaal voor het mixen van drums, zang, dialoog, geluidseffecten en andere groeperingen. Bovendien kunt u gemakkelijk schakelen tussen applicaties, zodat u kunt kiezen wat u wilt. En de mogelijkheid om elk project op zich te nemen dat op uw pad komt.
Zet een studio op in elke ruimte
Of je nu thuis bent, weggestopt in een kleine suite of onderweg, dankzij het compacte formaat, de krachtige en uitgebreide DAW-bediening van de S3 zit je in de stoel van je studio. Waar je maar wilt. Bovendien heeft de S3 een ingebouwde 4×6-interface, waarmee u sessies kunt opnemen, mixen en monitoren met alleen het oppervlak en uw laptop (alleen Mac). Of monitor audio met behulp van S3 standalone. Geen extra audio-interface vereist.
Gebruik dezelfde vertrouwde technologie
S3 levert ongelooflijke workflowversnelling, zeer responsieve handling en diepe DAW-integratie. Alles gebouwd op bewezen technologie, vertrouwd door de beste audioprofessionals in de meest veeleisende productieomgevingen. Het resultaat: u krijgt de uitzonderlijke, dynamische prestaties die u nodig hebt om de best klinkende mix mogelijk – op tijd, elke keer weer af te leveren.
SYSTEM REQUIREMENTS
 WINDOWS*

OS:

Windows 7** (32- or 64- bit), Windows 8

Processor:

 1 GHz or faster 32-bit (x86) or 64-bit (x64)

RAM:

 1 GB (32-bit) / 2 GB (64-bit)

Hard disk space:

 500 MB

Ethernet port:

 10/100 Base-T***
 MAC OS X

OS

Mac OS X 10.8.5 or higher (32- or 64-bit)

 Processor:

 Intel processor

 RAM:

 1 GB (2 GB or more recommended)

 Hard disk space:

 500 MB

 Ethernet port:

 10/100 Base-T**
HARDWARE SPECIFICATIONS
 

Channel strips/faders

16 (up to 6 fader banks)

 Encoders

32 total (each with high-resolution OLEDs and tri-color function indicator)—16 assignable encoders, 8 channel control encoders, 8 global control encoders

 Metering

 16 10-segment meters, with pre- and post-fade metering options

 Analog inputs

 4 total—2 XLR mic/line inputs and 2 TRS line inputs for connecting mics, instruments, and other devices for recording

 Analog outputs

  4 total—2 XLR line outputs and 2 TRS line outputs for connecting studio monitors

 Headphone output

  1 (1/4-inch TRS) with level control

 Ancillary I/O

 2 USB 2.0 ports (for connecting a keyboard and mouse ), 1 footswitch port (1/4-inch TRS), Kensington lock slot

 Height (front, rear w/knobs)

 1.3 inches, 2.8 inches (3.2 cm, 7.2 cm)

 Width

 28 inches (71 cm)

 Depth

 14.3 inches (36.3 cm)

 Weight

 13.8 lbs (6.2 kg)
COMPATIBLE AUDIO & VIDEO SOFTWARE
EUCON-ENABLED AUDIO OR VIDEO SOFTWARE
Pro Tools 11.2.1 or higher
 Pro Tools | HD 11.2.1 or higher
Media Composer 8.1 or higher
Apple Logic Pro X
 Steinberg Cubase 7 or higher
 Steinberg Nuendo 6.5 or higher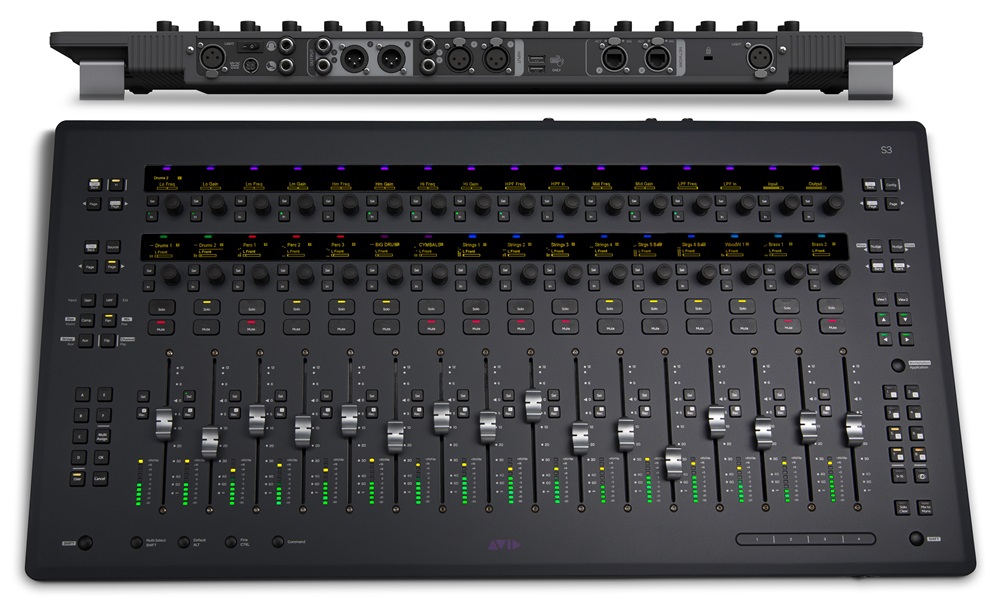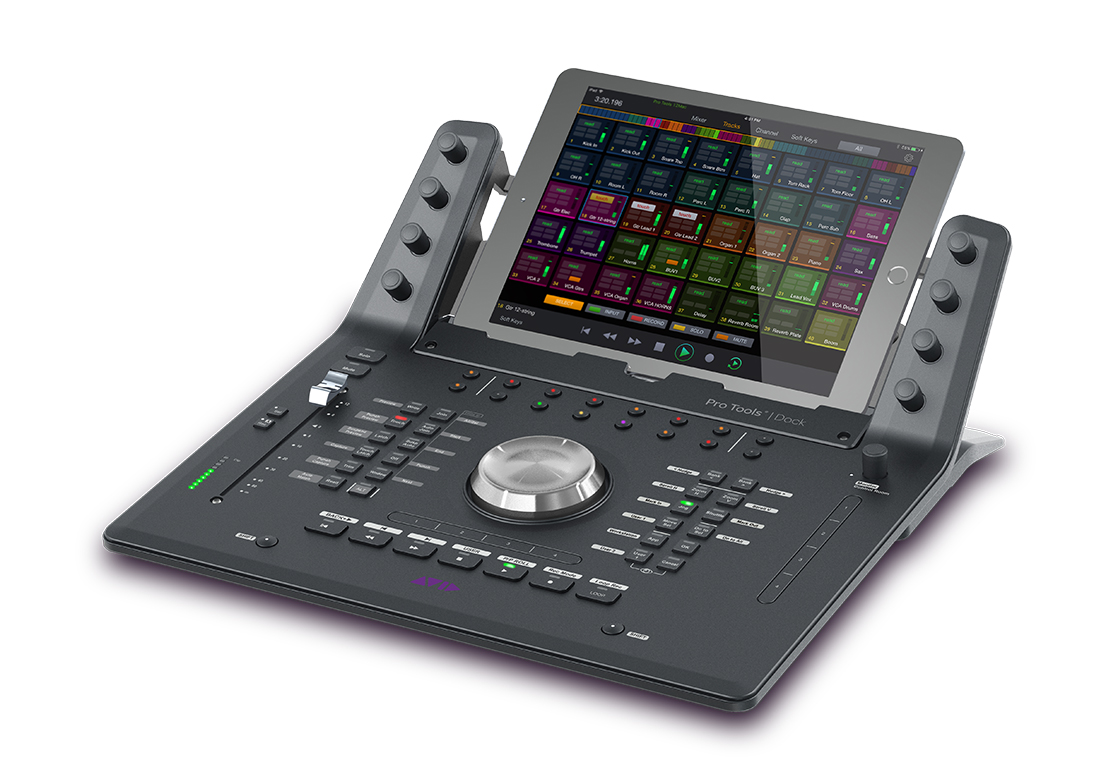 Control surface features
 Get extensive touchscreen control
Pro Tools | Dock easily connects with your own iPad and our free Pro Tools | Control iOS app, providing intelligent control of your audio and video projects. The app offers a host of touch controls and visual feedback to speed up your efficiency. Plus, you can navigate huge sessions with speed and ease using the Universe Scroller. And bring the channels you're looking for quickly to the surface through color-coded tiles in Tracks view.
Adjust parameters with a twist
The Dock provides eight push-top, touch-sensitive Soft Knobs that interact with whatever knobset you've chosen in the Pro Tools | Control app. Select an EQ, plug-in, send, pan, or other item, and all parameters instantly map to the knobs for tweaking. And because you're making adjustments with physical controls, you don't have to focus on your computer screen and can instead really listen to how your adjustments impact your mix.
Speed up tasks with Soft Keys
You can click-click-click your way through frequently performed editing and mixing tasks. Or you can assign the 16 Soft Keys to do the tedious work for you. Trigger menu commands and other software functions and recall layouts at the press of a button. Or adapt the Dock to your unique workflow by programming macros to perform more complex tasks.
Navigate your project your way
Quickly access any channel in Tracks or Universe view—no matter how huge the session. Get full transport controls, plus an alternate Shift layer to access commands such as back + play and pre/post roll on or off. Use the assignable weighted jog wheel and right-side switches to jog, shuttle, zoom, bank, switch workstations, and more. And scroll through projects or perform custom tasks with the two programmable touch strips.
---
Control Sufaces
Krijg uitgebreide touchscreen-bediening
Pro Tools | Dock maakt eenvoudig verbinding met je eigen iPad en onze gratis Pro Tools | Bedien de iOS-app en zorg voor een intelligente besturing van uw audio- en videoprojecten. De app biedt een groot aantal aanraakbedieningen en visuele feedback om uw efficiëntie te verhogen. Bovendien kunt u snel en gemakkelijk door enorme sessies navigeren met behulp van de Universe Scroller. En breng de kanalen waarnaar je op zoek bent snel naar de oppervlakte via kleurgecodeerde tegels in de weergave Tracks.
Pas parameters aan met één draai
Het Dock biedt acht zachte Touch Knop-aanraakgevoelige knoppen die samenwerken met elke knopset die je hebt gekozen in de Pro Tools | Controle app. Selecteer een EQ-, plug-in-, verzend-, pan- of ander item en alle parameters worden direct toegewezen aan de knoppen voor aanpassingen. En omdat u aanpassingen aanbrengt met fysieke bedieningselementen, hoeft u niet te focussen op uw computerscherm en kunt u in plaats daarvan echt luisteren naar hoe uw aanpassingen van invloed zijn op uw mix.
Versnel taken met Soft Keys
U kunt klikken en klikken om door veelvuldig uitgevoerde bewerkings- en mengtaken te klikken. Of u kunt de 16 Soft Keys toewijzen om het saaie werk voor u te doen. Activeer menuopdrachten en andere softwarefuncties en haal indelingen op met een druk op de knop. Of pas het Dock aan uw unieke workflow aan door macro's te programmeren om meer complexe taken uit te voeren.
Navigeer je project op jouw manier
Krijg snel toegang tot elk kanaal in de weergave Tracks of Universe, ongeacht hoe groot de sessie is. Krijg volledige transportknoppen, plus een alternatieve Shift-laag om toegang te krijgen tot commando's zoals back + play en pre / post roll aan of uit. Gebruik het toewijsbare gewogen jog-wiel en de schakelaars aan de rechterkant om te joggen, shuttle, zoomen, bankieren, van werkstation wisselen en meer. Blader door projecten of voer aangepaste taken uit met de twee programmeerbare aanraakstrips.
SYSTEM REQUIREMENTS
| | |
| --- | --- |
|  Mac | |
|  OS | OS X 10.10.5 or higher |
|  Processor |  Intel |
|  Memory |  2 GB RAM |
|  Hard disk space |  500 MB available |
|  Ethernet port |  10/100 Base-T |
|  Windows | |
|  OS |  Windows 8, Windows 10  |
|  Processor |  1 GHz or faster |
|  Memory |  2 GB RAM |
|  Hard disk space |  500 MB available |
|  Ethernet port |  10/100 Base-T |
|  iPad  | |
|  iOS |  9.3.1 or higher |
|  Model* |  iPad Air, iPad Air 2, iPad Pro (9.7-inch), iPad mini 2, iPad mini 3, iPad mini 4 |
|   |  * Please note that iPad Pro (12.9-inch) is not currently supported |
HARDWARE SPECIFICATIONS
| | |
| --- | --- |
|   | |
|  Channel strips/faders | 1 "attention" channel with a touch-sensitive, motorized fader  |
|  Encoders |  9 total—8 push-top, touch-sensitive channel control encoders; 1 monitoring control encoder  |
|  Metering |  1 10-segment meter with pre- and post-fade metering options |
|  Navigation |  Jog wheel with full transport control section |
|  Additional controls |  32 hardware buttons for various mode selection functions, 2 programmable touch strips, 16 programmable Soft Keys |
|  Ancillary I/O | 1 USB 2.0 port (for charging iPad), 1 footswitch port (1/4-inch TRS), 1 Ethernet port, Kensington lock slot  |
|  Height (front, rear w/knobs) | 1 inch, 5.4 inches (2.7 cm, 13.8 cm)  |
|  Width | 13.9 inches (35.2 cm)  |
|  Depth | 14.1 inches (35.9 cm)  |
|  Weight |  4.2 lbs (1.9 kg) |
QUALIFIED SOFTWARE*
 Avid Pro Tools 12.5 and higher
 Avid Pro Tools | HD 12.5 and higher
 Apple Logic Pro X
 Steinberg Cubase 8.5 and higher
 Steinberg Nuendo 7 and higher
*The software above has been fully tested to support Pro Tools | Dock. However, you can use other EUCON-enabled audio and video software with the surface, though no other titles have been qualified at this time. Please also note that the Channel view in the Pro Tools | Control app is supported only when using Pro Tools or Pro Tools | HD.
Pro Tools | First

Pro Tools

Pro Tools | Ultimate

SUPPORTED TRACKS

Maximum simultaneous audio tracks @ 48/96/192 kHz
16/16/–

(mono or stereo)

128/64/32


(mono or stereo)

256/128/64¹


(up to 768/384/192)²

Maximum inputs (hardware dependent)
4
32
192³
Audio recording (maximum simultaneous tracks)
4
32
256
Instrument
16
512
MIDI
16
512
Auxiliary
16
128
512
Busses
Unlimited
Video
n/a
1
64
1. Per Pro Tools | HDX or Pro Tools | HD Native card
2. With Pro Tools | HDX systems only
3. Pro Tools | Ultimate software supports up to 64 channels of I/O with HD Native hardware through DigiLink, and up to 32 channels of I/O through Core Audio and ASIO
Pro Tools | First

Pro Tools

Pro Tools | Ultimate

GENERAL

Maximum supported projects/sessions
Three projects stored in the included 1 GB cloud; additional cloud plans available for purchase, providing unlimited projects and the ability to save projects locally (get the details)
Unlimited sessions stored on local or networked drives; unlimited projects stored in the included 1 GB cloud; additional cloud plans with more storage space available for purchase (get the details)
Maximum sample rate supported (hardware dependent)
32-bit, 96 kHz
32-bit, 192 kHz
Maximum I/O (hardware dependent)
4
32
256
ASIO, Core Audio, and EUCON support (for third-party interface and control surface integration)
Yes
Supported plug-in formats (virtual instruments, effects, and sound processors)
AAX Native, AAX AudioSuite
AAX DSP (Pro Tools | HDX only), AAX Native, AAX AudioSuite
Bundled software
Xpand!2 multitimbral music workstation (hundreds of sounds), plus over 20 effects, sound processing, and utility plug-ins
Over 60 included virtual instruments (thousands of sounds), effects, sound processing, and utility plug-ins, with optional access to 17 bonus plug-ins
Over 60 included virtual instruments (thousands of sounds), effects, sound processing, and utility plug-ins, with optional access to 25 bonus plug-ins
Bundled loops
500 MB loop library curated from leading producers
2 GB loop library curated from leading producers
Network Site License (coming soon)—additional software included
n/a
All plug-ins in the Avid Complete Plug-in Bundle
All plug-ins in the Avid Complete Plug-in Bundle, plus HEAT, Pro Tools | MachineControl, and Pro Tools | DigiLink I/O License
Pro Tools | First

Pro Tools

Pro Tools | Ultimate

FEATURES

Composing, recording, sequencing, editing, and mixing tools
+
+
+
Loop record track comping
+
+
+
MIDI Editor
+
+
+
Sibelius Score Editor
+
+
Elastic Time and Elastic Pitch
+
+
+
Avid Cloud Collaboration
Includes 1 GB of free cloud storage space for collaboration; additional cloud storage plans available for purchase, providing more space, unlimited projects, and the ability to invite others to collaborate and save projects locally (get the details)
Includes 1 GB of free cloud storage space for collaboration; additional cloud storage plans available for purchase (get the details)
Selective Project Sync
Requires any paid cloud plan
+
+
Soundbase
+
+
+
Revision History
+
+
Track Freeze, Commit, and Bounce
Track Freeze only
+
+
Automatic Delay Compensation
16k
Beat Detective
n/a
Multitrack
Clip FX
n/a
Playback only
Apply, edit, and play
QuickPunch
+
+
+
Retrospective MIDI recording
+
+
+
Track Presets
+
+
+
AAF/OMF/MXF file interchange
+
+
Workspace
+
+
+
Batch renaming
+
+
Clip Gain
+
+
Export to iTunes
+
+
Offline bounce
+
+
+
Timecode Ruler
+
+
Full Import Session Data
+
+
Variable stereo pan depths
+
+
In-the-box dubbing
+
Requires Pro Tools | HDX
Field recorder workflows
+
Avid Video Engine
+
+
Surround mixing
+
Dolby Atmos mixing workflows
+
Ambisonics VR workflows
+
Advanced metering with gain reduction
+
+
Satellite Link
+
Extended RAM/Disk Cache
+
+
TrackPunch / DestructivePunch
+
Input monitoring
+
+
VCA mixing
+
+
Solo bus AFL/PFL
+
+
Advanced audio editing—Scrub Trim, Replace Region, Fit to Marks, Matching Channels, Back and Play, Auto Fades, and more
+
Advanced automation—Punch, Capture, Write on stop, Write to all enabled, Automatch, Preview, and more
+
Advanced video editing—multiple video tracks, multiple video playlists, and video editing tools
+
Pro Tools | First

Pro Tools

Pro Tools | Ultimate

A/V INTERFACES AND STORAGE

Avid Artist | DNxIQ
+
+
Avid NEXIS
+
Avid NEXIS | PRO
+